Honey Mustard Spuds w Brussel Sprouts - GUEST CHEF - Niki Loe
Honey Mustard Spuds w Brussels Sprouts
Prep 5 mins | Bake 25

mins |

Serves 4

GF NF* SF* OF*

She's shiny, she's shimmery, she's my NZ version of Barbie (with brains to boot) - meet this month's Guest Chef, Niki Loe. Today we're going to show you exactly what to do with that languishing bag of Brussels sprouts in your fridge. We'll also teach you how and why you can eat potatoes (yes potatoes), without fear of waistline expansion.

Say hello to tonight's dinner - Honey Mustard Spuds with Brussels Sprouts.

Niki is a Naturopath, Nutritionist and Medical Herbalist (we actually studied at the same college, with her winning the exact same graduation award for overall academic excellence that I won the year prior), as well as a Personal Trainer and Pilates teacher. I've had the pleasure of her sunny disposition in my life for 10 years now, and when I asked if she'd like to be a Guest Chef in Cooking School, she was more than happy to oblige. "So what do you want to showcase?" I said. "Potatoes" she replied, "anything, as long as it includes potatoes".

When I delved further, she said her cooking is very simple (she's awake at 430am for PT clients at 6), but that it always revolves around the Blue Zones. Thus our vision of creating a Recipe Series for you to celebrate the 5 longest-living populations in the world was born. This recipe, honouring Loma Linda in California, features crunchy roast baby potatoes, caramelised Brussel sprouts, juicy cherry toms, and a silky honey mustard dressing that is simply sensational.

Watch the video up top, print or screenshot the recipe card, and give it a try tonight. Hearty, flavour-packed, and done in under 30 mins - we're hoping it will have you receiving a letter from the King too.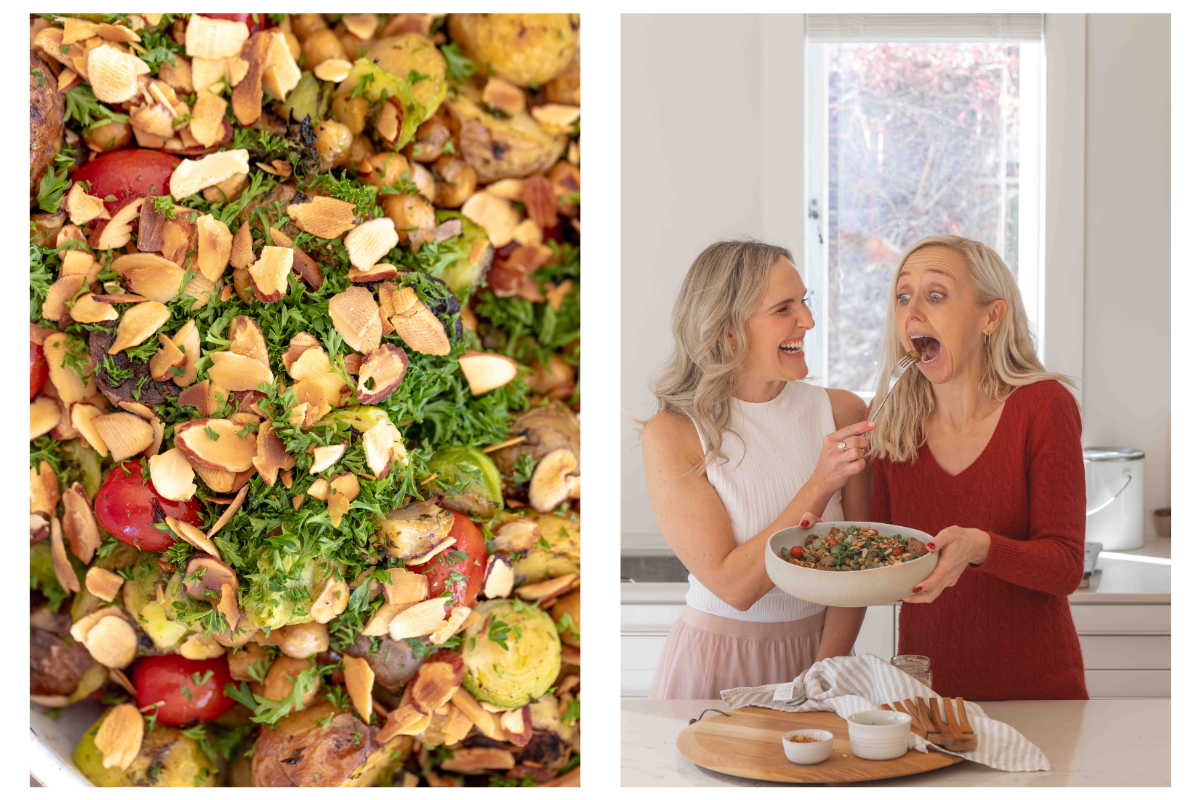 INGREDIENTS


500 g baby potatoes
6 garlic cloves, peeled
5 tbsp fresh parsley, chopped (or any other preferred herbs)
2 tbsp extra virgin olive oil (or less if desired)
1 c chickpeas, drained, rinsed & dried well with a paper towel
300 g Brussels sprouts
250 g cherry tomatoes
2 tbsp slivered almonds, toasted
Honey Mustard Dressing
2 tbsp extra virgin olive oil
1 ½ tbsp white wine vinegar
1 ½ tbsp Dijon mustard
2 tsp honey
salt and pepper, to taste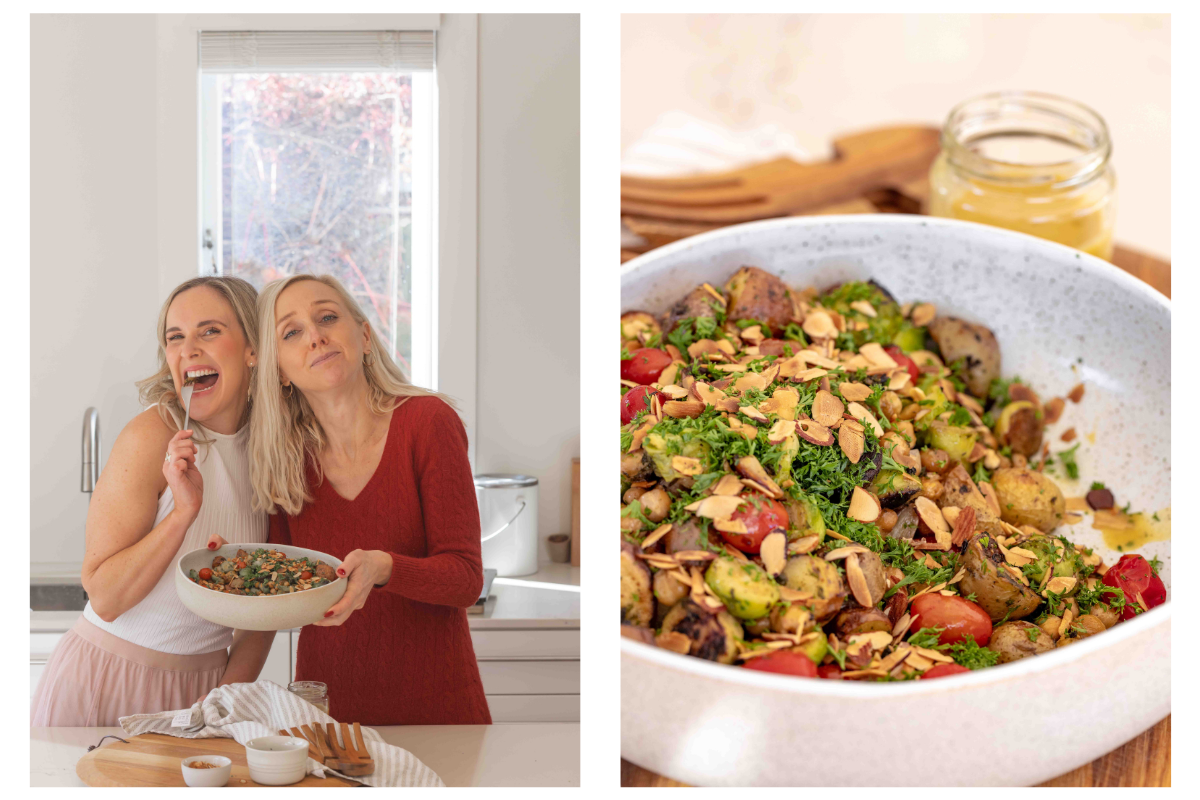 INSTRUCTIONS

Preheat oven to 220°C bake (or 200°C fan bake). Cut any large baby potatoes in half so they're around 3cm x 3cm, keep small ones whole.
In a large bowl, toss potatoes with whole garlic cloves, 4 tablespoons of the chopped parsley, and 1 tablespoon of olive oil. Season with salt and pepper, and roast in oven for 15 minutes.
Back in the same bowl, toss the chickpeas with the other tablespoon of olive oil and season with salt and pepper. Sprinkle evenly over the potatoes and roast for another 10 minutes.
Meanwhile, slice the ends off the Brussels sprouts and cut them in half. Blanch in a pot of boiling water for 2 minutes, then drain. Add to a pan on medium-high heat in a single layer, season with salt and pepper, and sauté for a few minutes until golden and caramelised. Try not to stir the Brussels for the first few minutes to give them time to get crispy and golden around the edges. Add the cherry tomatoes and stir through for 1 minute until warm and just starting to soften.
Honey Mustard Dressing: Whisk together all ingredients in a small bowl with a fork, or shake in a small jar, to form a thick emulsified dressing.
Gently stir the Brussels sprouts and cherry toms through the roasted spuds and chickpeas (while still on the roasting tray), and drizzle over the dressing.
Serve warm in bowls topped with toasted almonds and garnished with the remaining fresh parsley, with a crunchy green salad on the side.

NOTES
Gluten free: As is.
Nut free: Swap the almonds for toasted pumpkin seeds.
Sugar free: Swap the honey for 2 teaspoons of xylitol, or a pinch of stevia to taste.
Oil free: Roast the potatoes and chickpeas without oil, use a baking sheet below instead, or lightly grease the tray with oil beforehand. Make the dressing with chickpea water instead of oil.
Weight loss: Yes you can eat potatoes and lose weight. Serve a single serve of the above as specified (it makes 4 small serves), with a large crunchy salad. You can also halve or omit the olive oil for roasting, use the chickpea brine option for the dressing, and opt for the sugar free dressing to further lighten the calories.

If you try this recipe, let me know what you think! Leave a comment below, or share a photo on Instagram and tag me @begoodorganics - I'd love to see how you get on.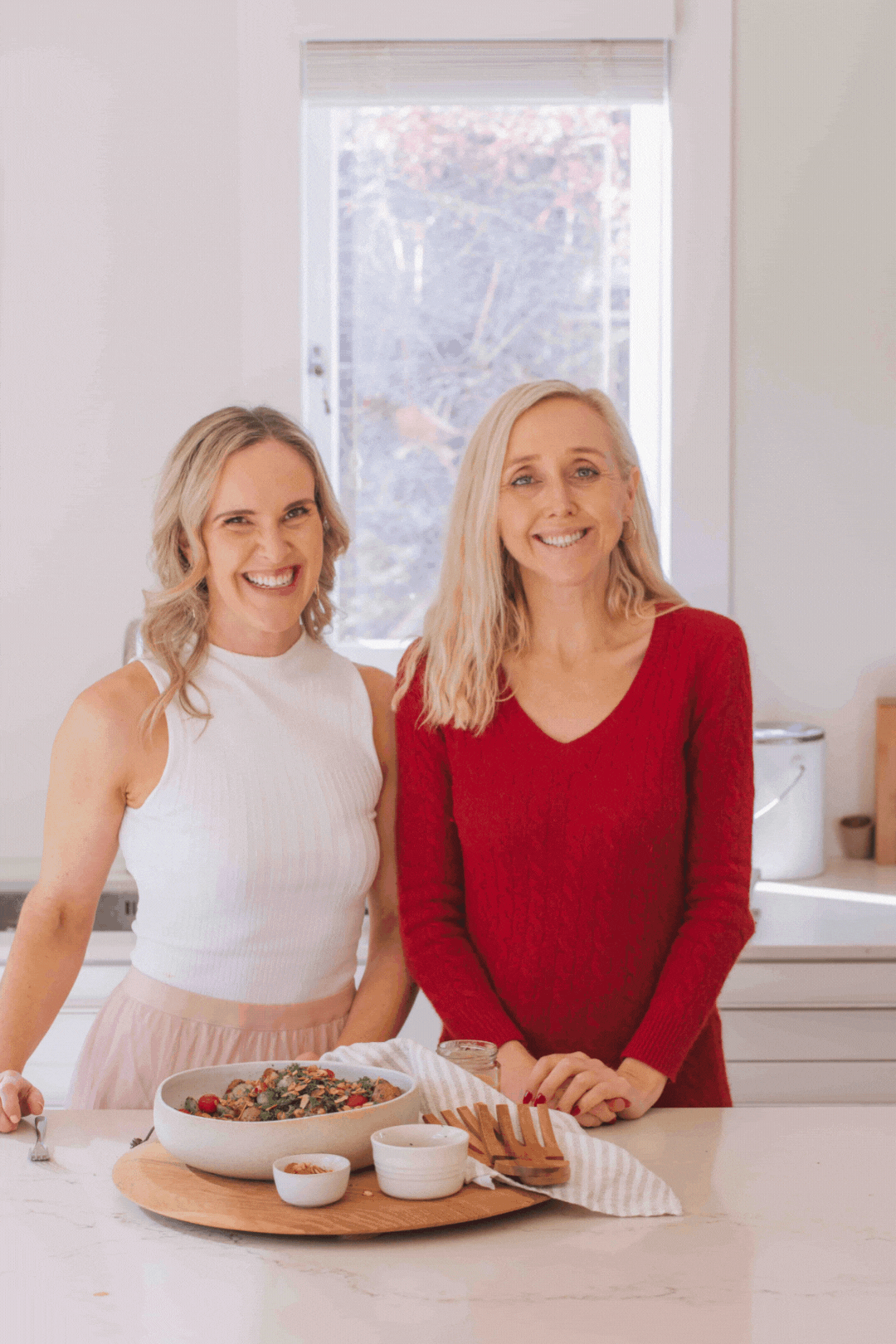 Complete and Continue