Eggplant & Kumara Curry - GUEST CHEF - Simon Gault
Eggplant & Kumara Curry
Takes 40 mins | Serves 6
Ok hold the phone my friend, this episode is sooooo good you have to watch it right now. I'm not going to spill too much, but I've been laughing all the way through, so know you will too!
I have none other than the eminent Simon Gault in the house. Masterchef judge for 5 full seasons, founder of 8 award-winning restaurants across New Zealand, author of 4 bestselling cookbooks, and private chef to squillionaires like Oracle CEO Larry Ellison.
And he's making us curry! Not just any curry. A world first, never been seen before Eggplant and Kumara Curry that he's created just for us here inside Be Good cooking school. Complete with a homemade curry powder, fried curry leaves, julienned ginger, and lush coconut red rice.
But as you'll hear Simon say in the vid, "it's not advanced!".
And you know what, he's right. If you've made our Butter Chick'n or Palak Tofu already, you'll have all the skills you need to nail this one off the bat.
So turn off the Netflix, drop the washing, and put the kids to bed. Watch this very special episode now, and make this curry this week.
Plus - Simon has so generously offered to give away a Deli Hamper worth over $200, with all his favourite ingredients from his deli store, if you make this curry! To win, simply share your finished curry on Instagram in your stories or main feed and tag us @begoodorganics and @simon_gault. We can't wait to see your creations, and send this gorgeous hamper across to you!
INGREDIENTS
Coconut Red Rice
2 c red rice
2 c vegetable stock
pinch sea salt
1 c coconut milk
Eggplant & Kumara Curry
2 large eggplant (~800 g)
3 ½ tsp sea salt
1 onion, finely diced
1 tsp black mustard seeds
2 cloves garlic, finely chopped
1 green chilli, sliced
6 sprigs curry leaves
1 cinnamon stick
1 pinch saffron (optional)
2 tbsp curry powder
2 c vegetable stock
½ tsp ground ginger
6 baby kumara, cut in wedges (sweet potato)
1 ½ c coconut milk
½ c cashew nuts
To Serve
fresh ginger root, peeled and julienned, to garnish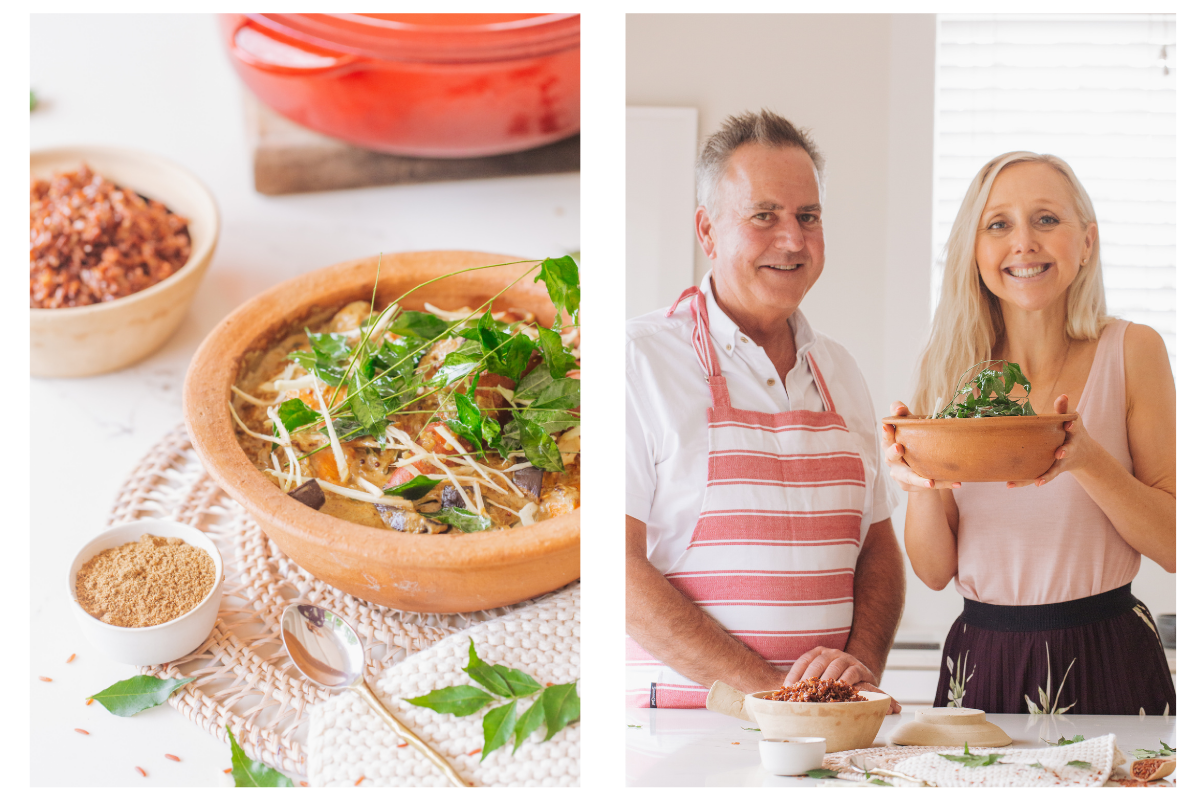 INSTRUCTIONS
Coconut Red Rice: Rinse rice, then cook with stock and salt for 15 mins lid on. Add coconut milk, replace lid, and cook for a further 15 mins. Remove from heat and allow to rest, lid on, for 10 mins. Fluff with a fork just before serving.
Eggplant: Preheat oven to 200°C. Cut eggplant in thick slices then into batons, place on a tray, and sprinkle with 2 tsp salt. Set aside to sweat for 30 mins. Using a paper towel, pat eggplant dry to soak up the moisture the salt extracted. Transfer batons to a baking tray and roast 20 mins until soft and tender.
Curry: In a saucepan, sauté onion and mustard seeds in a little olive oil (or water) for 3 mins. Add garlic, chilli and 10 of the curry leaves and sauté a further 2 mins. Add cinnamon stick, saffron, curry powder, stock, ginger, remaining salt, and kumara. Simmer for 10–15 mins until kumara is tender. Meanwhile, blend coconut milk and cashew nuts in a blender until smooth then pour into the curry. Add eggplant at end until heated, then taste and season if desired.
Curry Leaves: Heat a little coconut oil until it sizzles, then add the remaining curry leaf sprigs and fry until crispy approx 30–60 seconds. Transfer onto a paper towel and let cool.
To Serve: Garnish curry with fried curry leaves, fresh julienned ginger, and serve with coconut red rice.


NOTES
Gluten free: Naturally gluten free.
Nut free: Sub the cashew nuts for sunflower seeds.
Weight loss: Serve ¼ cup of rice with ½ cup of curry and a big crunchy green salad. Or reduce the coco milk in the rice to ½ cup, and in the curry to ½ cup also - both of these will lighten the energy density of the dish (you could dry fry the final curry leaves too).
Simon's Curry Powder
2 tbsp basmati rice
4 tbsp coriander seeds
3 tbsp cumin seeds
1 tbsp black mustard seeds
2 tbsp whole black peppercorns
15 whole cloves
½ tsp ground cardamom
In a pan over medium heat, toast rice a few minutes until golden, shaking as you go so it doesn't burn. Add remaining ingredients and toast for 4 mins, continuing to shake the pan (turn heat down if necessary). Remove from heat and allow to cool.
Using a blender, spice grinder or the old-fashioned way (a mortar and pestle), grind spices to a powder. Store in an glass jar in your pantry.