Kate's Plate
Kate's Plate
Takes 20 mins | Serves 4
GF, NF*, SF, OF*
Ever batch cook for the week, then get bored with the same old flavours day in day out?
Meet Kate's Plate. With my brand new Guest Chef - Kate Hall from Ethically Kate. Kate is New Zealand's leading sustainability maven (and she does it with such flair), and is passionate about inspiring you to live a more conscious eco-friendly lifestyle. She's a pretty out there kind of gal (as you'll soon see), and the dish she's sharing with us today is equally wild!
Set aside any reservations you have - when we sat down to this magnificent plate, oh my, it was a party in my mouth. So many flavours and textures - it works in a way I've never experienced before.
In this episode you'll also learn…

How to regrow your spring onions (so you don't have to buy more)
How to make homemade vege stock with your cut offs (without them going mouldy)
And, what to do with your banana peels (hint: it involves your house plants)

As Kate says, there are no rules with a Kate's Plate - go wild, tune in to what's in your fridge, and get ready for a taste bud bonanza. Once you've learned these techniques, you'll never have to go the store for a specific ingredient again!
Watch this episode now - I can't wait to hear what you think.
INGREDIENTS
Potato salad
4 medium sized potatoes, boiled
2 spring onions, finely sliced
2 tbsp chopped chives
few borage leaves / edible weeds (optional)
1 red onion, diced
⅓ c vegan aioli / mayo
½ tsp apple cider vinegar
½ c pumpkin seeds
Sautéed cauliflower leaves
Handful cauliflower outer leaves, sliced
1 c kale, sliced
1 c red cabbage, chopped
½ tsp turmeric
½ c almonds, toasted
Toasted chickpeas
400g can chickpeas, drained
2 cloves garlic, sliced
1 tsp cumin
½ tsp salt
Coconut banana
1 banana, sliced
juice of ¼ lemon
¼ c desiccated coconut
1 cucumber, sliced in batons
2 plums, sliced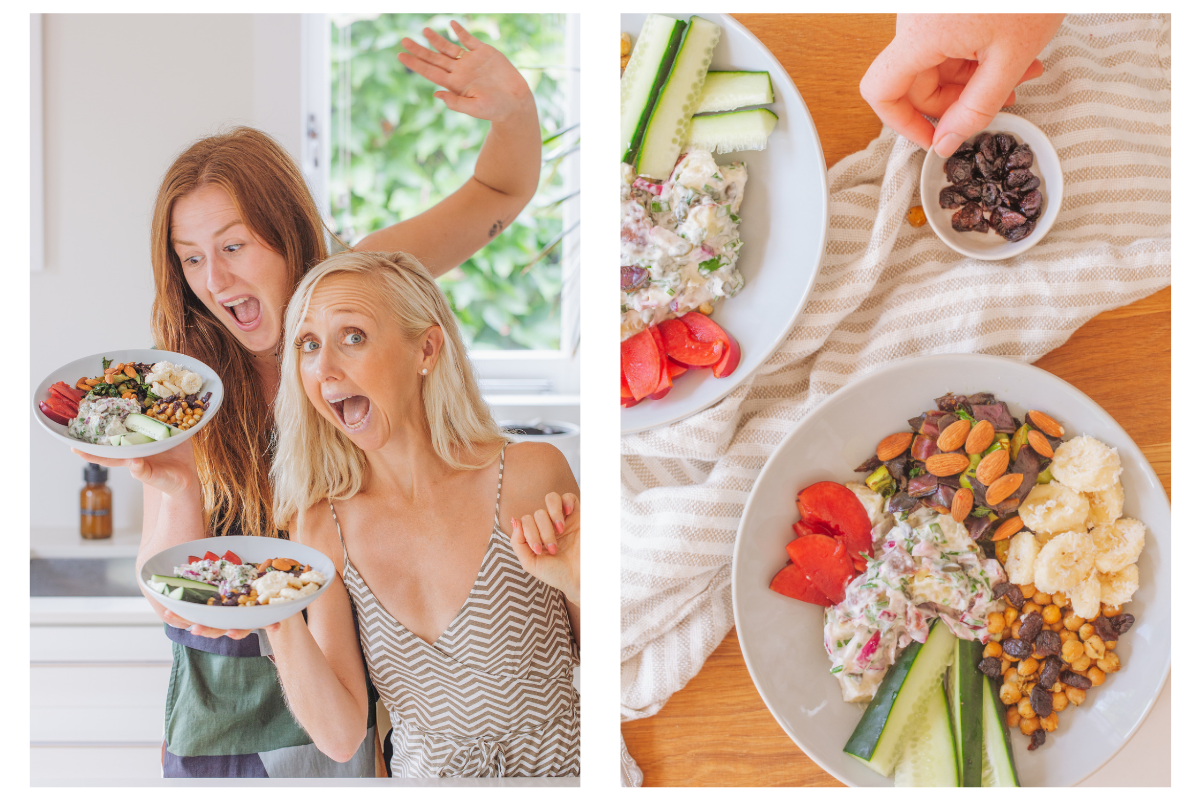 INSTRUCTIONS
Potato Salad: Mix together, then keep chilled while preparing the other components so the flavours can intensify.
Sautéed Cauliflower Leaves: Sauté in a little olive oil or water. Toast the almonds in a small pan for a few minutes until golden, then set aside ready to sprinkle on top.
Toasted Chickpeas: Toast together in a frying pan with a little olive oil.
Coconut Banana: Covered bananas in lemon juice, then toss in coconut.
Slice the cucumber and plums, then layer into individual bowls with each component placed separately.
NOTES
Gluten free: As is.
Nut free: Swap the almonds for pumpkin, sunflower, or hemp seeds.
Sugar free: As is.
Oil free: Cook the cauli leaf medley and chickpeas in a little water instead of oil.
Weight loss: Serve ½ cup potato salad with 1 cup cauli leaves, ¼ cup coconut banana, and ½ cup toasted chickpeas. Essential the exact recipe above, split into the four suggested portions.
Sub ideas: Try kumara instead of potato; any herbs in the potato salad that are growing in your garden; celery instead of the borage leaves; green beans or broccoli stems instead of cabbage / cauli leaves; walnuts or pumpkin seeds instead of almonds; cannellini, kidney or black beans instead of chickpeas; and any fresh fruit instead of plums.
If you try this recipe, let me know. Leave a comment below, or share a photo on Instagram and tag me @begoodorganics - I'd love to hear from you.