Vegan Shakshouka
Vegan Shakshouka
Takes 25 mins | Serve 4-5
GF NF SF OF*
Welcome to our brand new Recipe Series for September - Sunday Brunch. Over the last 100 episodes, I've showed you how to make a number of mid-week brekkies (bircher, porridge, granola), but never anything too fancy (other than these lovely pancakes here).
So, in this month's series, we're going to take things up a notch, and make three new dishes that are the perfect weekend brunch fare. First up - this 10/10 flavour punching Vegan Shakshouka. Think…
A rich cherry tomato, onion, and capsicum base
The most divine little "tofu eggs"
Turmeric yolks - if you want to go the extra mile!
I always have high hopes when I create a recipe, but my friend, this one went above and beyond. Get yourself some canned toms, a pack of tofu, and let's kick off your next Sunday brunch in style.
INGREDIENTS
Tomato Base
1 tbsp olive oil
1 onion, finely diced
4 cloves garlic, crushed
1 green capsicum, finely diced
800g tinned cherry tomatoes
1 tsp cumin
1 tsp dried oregano
1 tsp sea salt
¼ tsp chilli flakes
¼ tsp ground black pepper
Tofu Egg
300g tofu
½ c plant milk
¼ c nutritional yeast
1 tsp onion flakes
1 tsp black salt
pinch ground black pepper
1 tsp turmeric (optional)
To Garnish
Parsley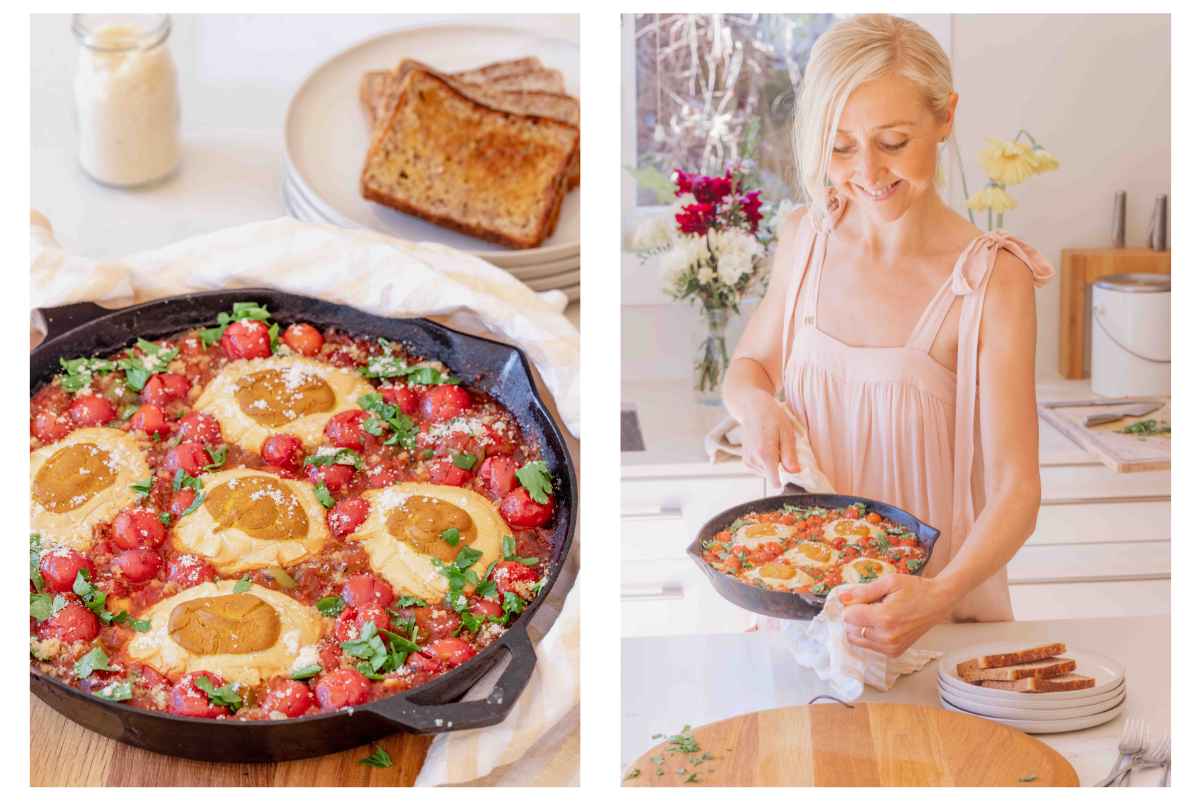 INSTRUCTIONS
In a cast iron or oven-proof pan, add the olive oil on medium heat. Add the onions, garlic, and capsicum and

sauté

for 5 minutes until soft and translucent.
Add the tomatoes and all seasonings, and simmer on low for 10 minutes while you prepare the eggs. Crush around half of the cherry toms with your spoon so the juices come out.
Blend the tofu egg ingredients (except the turmeric) in a blender until creamy. If you want to make the optional yolks, remove all the tofu mix to a bowl, then add back ½ cup to the blender with the turmeric. Blend until bright yellow.
Make 5 wells in the tomato mix, spoon in the tofu egg white, then dollop the yolks on top. Bake in the oven for 10-15 minutes until the tofu starts to set and gets a little golden on top.
Serve topped with chopped parsley, parmesan, with crusty bread or toast on the side. Leftovers will keep in the fridge for 5 days.
NOTES
Gluten free: As is.
Nut free: As is.
Sugar free: As is.
Oil free: S

auté

the onions in a little water instead of oil.
Weight Loss: Split into five servings (with the five eggs), and serve a portion with one slice of toast and a big green salad.
If you try this recipe, I'd love to hear how you get on! Leave me a comment below, or share a photo on Instagram and tag me @begoodorganics - I can't wait to hear what you think.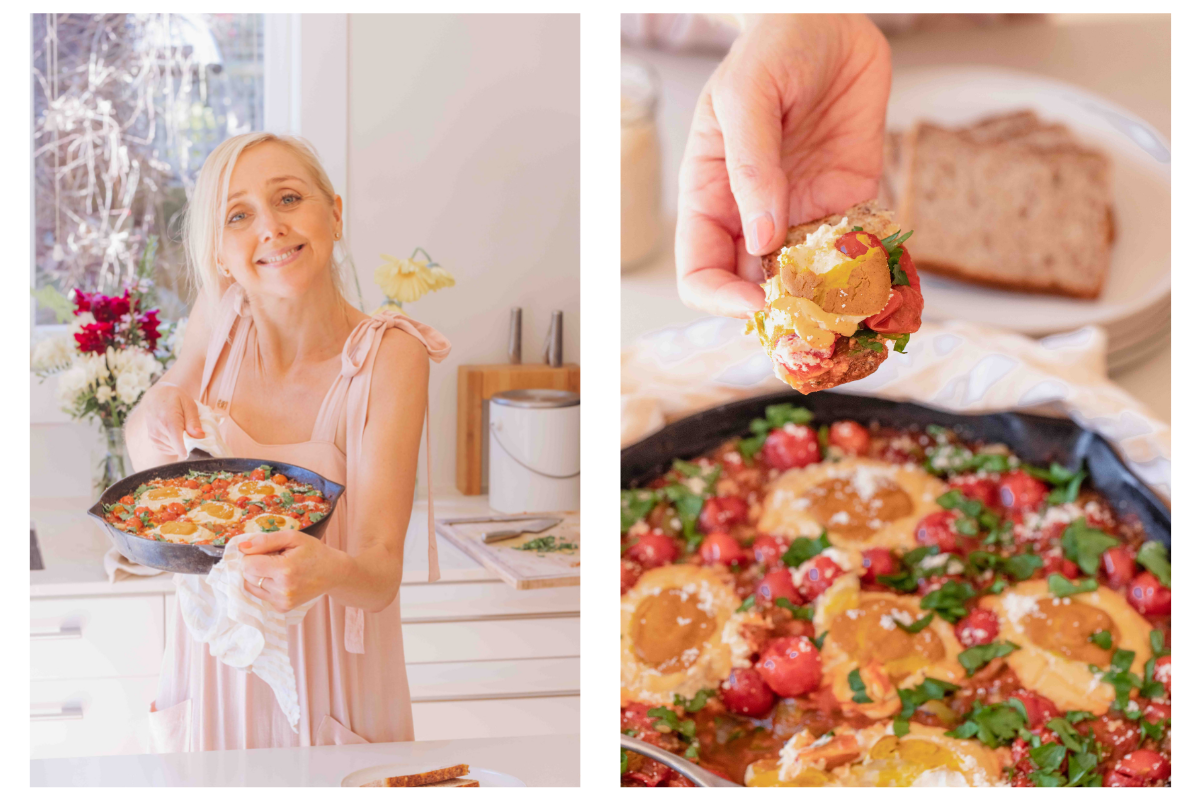 Complete and Continue