Healthy Anzac Biscuits
HEALTHY ANZAC BISCUITS
Takes 20 mins | Makes 12
I've been making these ANZAC Biscuits for a number of years now, a healthy take on a classic which was originally made back in WWII to fuel the troops. This version is so full of wholesome goodness and low in sugar, they're something you can enjoy all year round. I made them recently with dark choc chunks stirred through. Not traditional in the slightest, but oh my they were fabulous!
INGREDIENTS
Dry
3/4 c rolled oats (or quinoa flakes)
2/3 c desiccated coconut
1/2 c wholemeal spelt flour (or brown rice flour / almond meal)
4 tbsp coconut sugar
1 tsp baking powder
Pinch sea salt


Wet
3 tbsp coconut oil
2 tsp vanilla extract
1/4 c warm water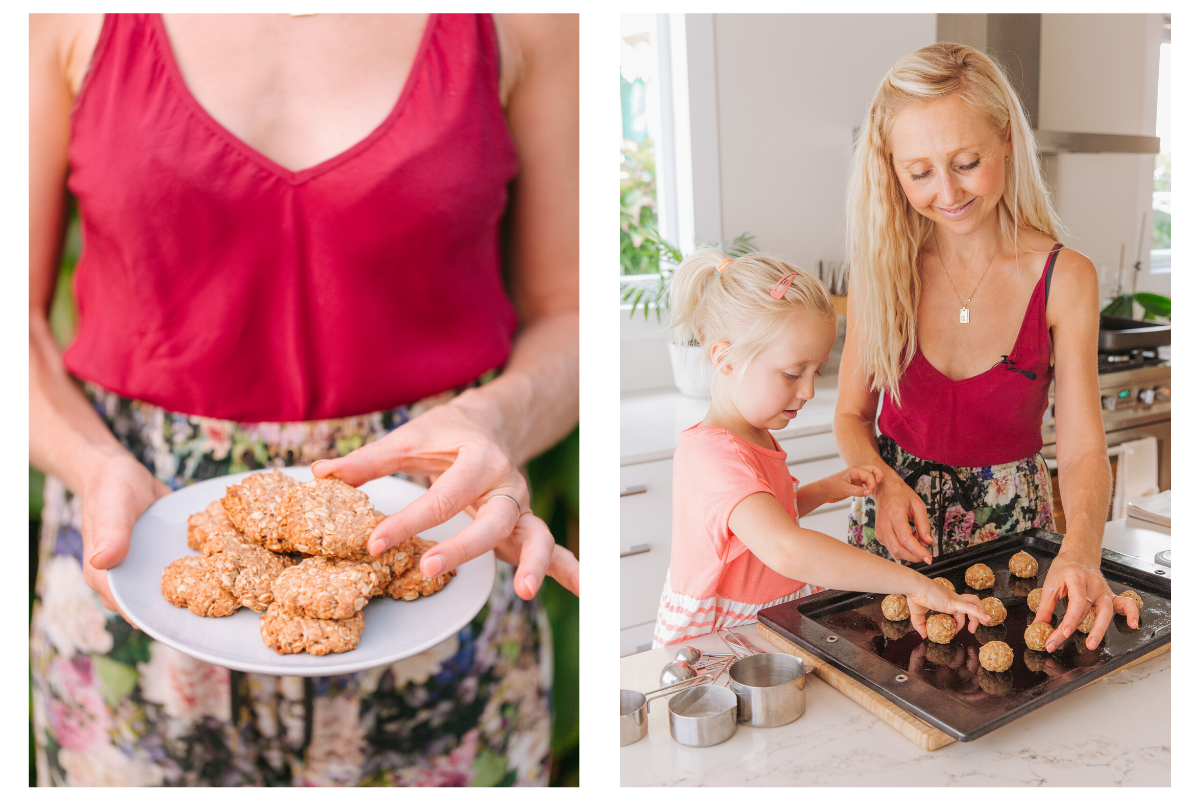 INSTRUCTIONS
Mix rolled oats, desiccated coconut, flour, baking powder, coconut sugar and salt in a large bowl.

Melt the coconut oil, and mix with vanilla extract and warm water.

Pour the wet ingredients into the dry ingredients and mix well. Roll into balls with your hands and flatten on a greased tray.

Fan bake at 175°C for 15 minutes until golden but still soft to touch (they will harden on cooling).

Leave to cool (especially if using almond flour) then enjoy with your favourite cup of tea.
NOTES
Make it gluten-free: replace the oats with quinoa flakes and spelt flour with e.g. brown rice flour plus ½ tsp of guar gum to bind. 
Make it paleo: replace the spelt flour with almond meal (ground almonds), and the oats with flaked or finely chopped almonds (for texture).
If using almond meal they are a bit crumblier while still hot, so don't touch them until they're completely cool. You can also add 1 tsp of cornflour/arrowroot or 1/2 tsp guar gum to help an almond flour-based mixture hold together.
Try adding ½ c (~50g) of chopped dairy-free chocolate into the final mix for extra deliciousness! Mix it in after combining the wet and dry ingredients together. I've also made them and drizzled melted chocolate on top... just saying.
Store in your cupboard in an airtight container for 2-3 days.
Make a double batch - this one won't last long!