Rajma Pie - GUEST CHEF - Shamiz Kachwalla
Rajma Pie
Prep 20 mins | Bake 20 mins | Grill 5 mins | Serves 4-6
GF, NF, OF, SF
Want to improve your gut health? Try this incredibly fibre rich kidney bean and potato gratin Rajma Pie. Made with zero oil, and infused with warming Indian spices, this super-healthy recipe comes from my incredible guest chef this month, Shamiz Kachwalla from High Carb Health.
Shamiz has an incredible story. After being diagnosed with Ulcerative Colitis 10 years ago, he was able to recover with a plant-based whole foods diet, is now running marathons, as well as coaching others with gastrointestinal diseases such as UC and Crohn's how they also can heal themselves.
The finale of our Plant-Powered Pies series - try this delicious pie alongside your Smoked Phish Pie and Chick'n Mushroom Pie, and you've got your comfort food cook-for-a-crowd menu sorted!
INGREDIENTS
1 red onion, finely diced
4 cloves garlic, chopped
2 cm ginger root, finely chopped
¼ c vegetable broth
1 ½ tsp cumin
1 ½ tsp coriander
4 mint leaves, finely chopped (or 1 tsp dried)
2 tbsp tomato paste
2 tomatoes, diced
1 c canned diced tomatoes
4 c cooked kidney beans (350g dried)
2 tsp jaggery / coconut sugar (optional)
1 tsp sea salt (to taste)
½ tsp ground black pepper (to taste)
¼ c coconut milk
2 medium potatoes, thinly sliced
To Serve
fresh coriander, plant yoghurt, pickles, crunchy green salad with tomato, avocado, zucchini, and cucumber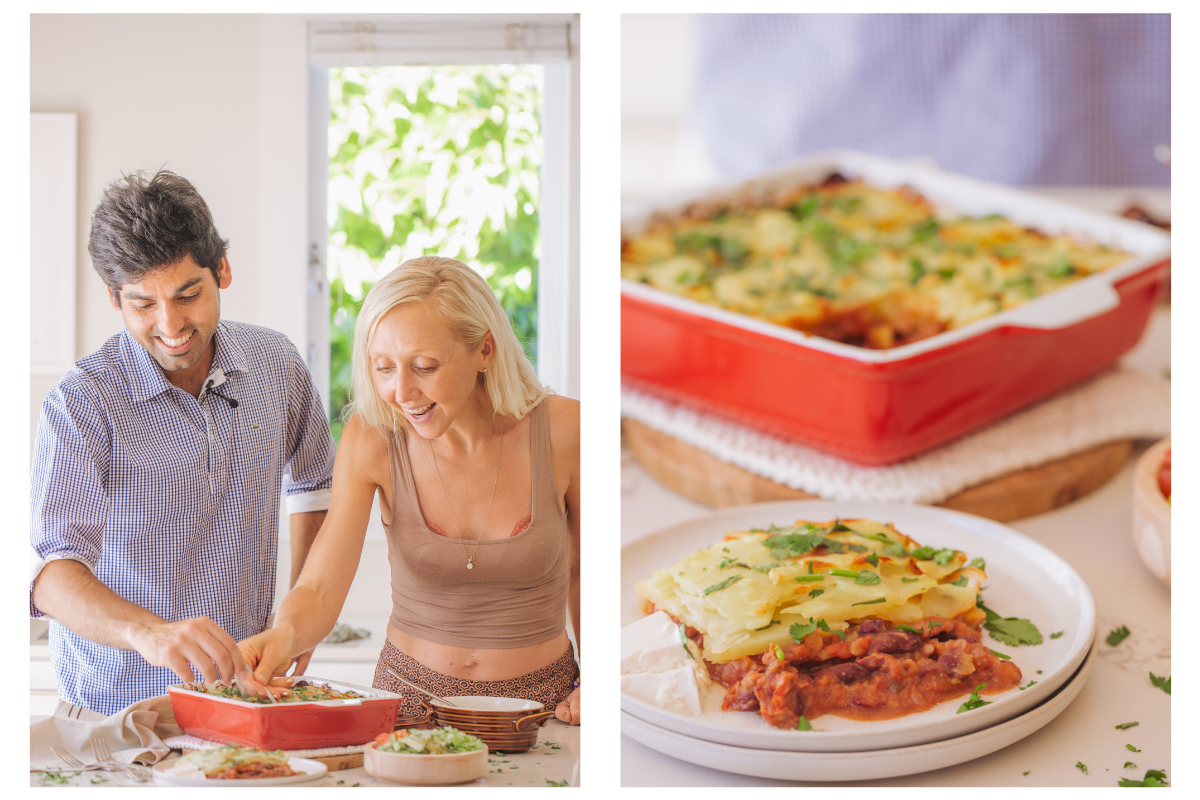 INSTRUCTIONS
Cook your kidney beans by soaking them overnight in water, then cooking in a pot, pressure cooker, or slow cooker (you can do this the day before if you like).
Preheat oven to 200°C fan bake. Dice onion, finely chop garlic and ginger, and put into a medium wok. Caramelise slowly, adding the vegetable stock so the mix doesn't stick to the pan. Add spices, mint, and tomato paste for a few minutes, then add tomatoes until cooked through. Add cooked kidney beans and mix well, season with jaggery/coconut sugar, salt, and pepper to taste, then pour into an oven dish.
Meanwhile, thinly sliced potatoes with a mandolin and steam until semi-cooked. Layer the potatoes on top of the bean mix, and bake in the oven for 20 minutes, grilling for a further 5-10 minutes until golden.
Serve with fresh coriander, plant yoghurt, pickles, and a crunchy green salad with tomato, avocado, grated zucchini, and cucumber.


NOTES
Gluten free:

Already is

Nut free: Already is.
Oil free: Already is.
Sugar free: Omit the jaggery or coconut sugar, or replace with 1-2 teaspoons of date paste.
Weight loss: A great option for weight management due the low calorie density and very low fat content. Split into 6 serves and enjoy with the sides suggested above.
You can also top this pie with sweet potato or kumara, as an alternative option.
If you try this recipe, let Shamiz and I know. Leave a comment below or share a photo on Instagram and tag us @begoodorganics and @highcarbhealth - we'd love to share it with the rest of our Be Good Organics and High Carb Health communities. Or if Facebook is more your thing, you can post your recreations on my Be Good Organics page here.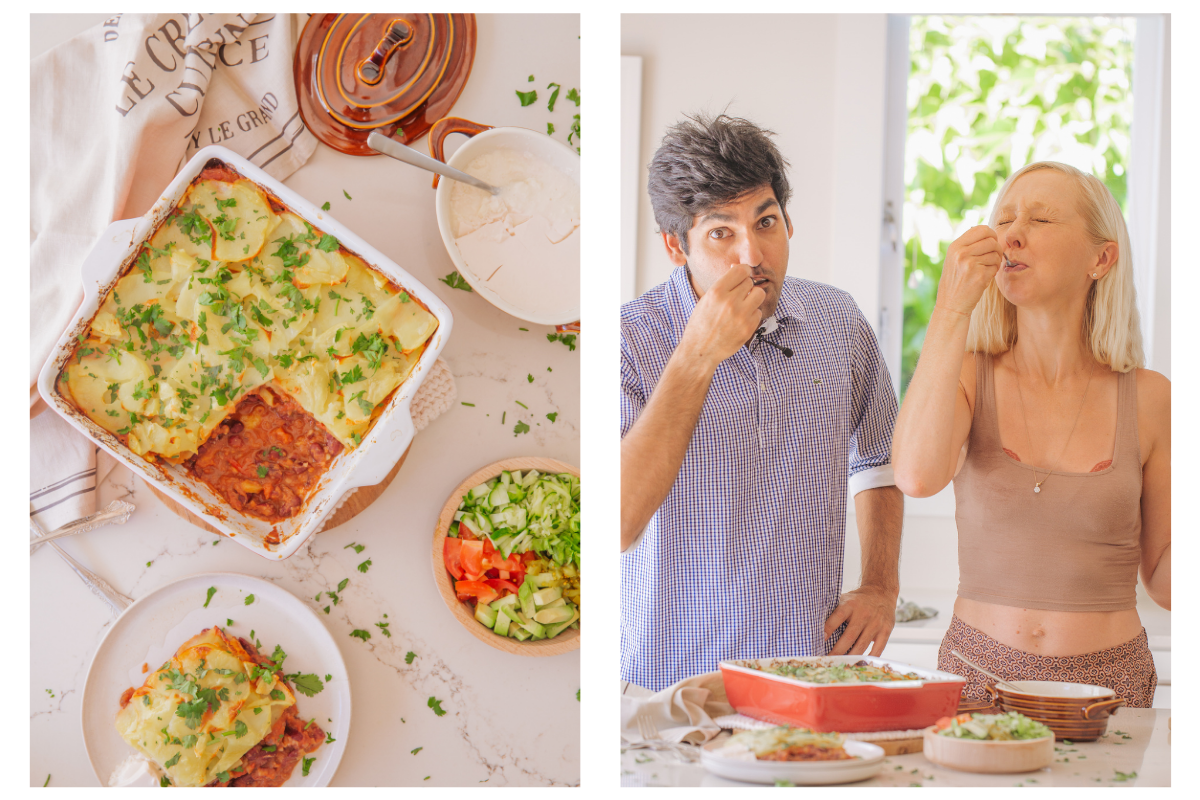 Rajma Pie - Recipe Card.pdf